Please review the rules HERE before participating in the Classifieds or Forums.
entry
1
comments
0
views
406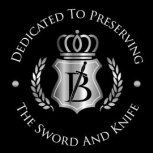 Entry posted by J. Fang ·
537 views
To students of the blade:
Together, we have built great things. We have created gatherings across the world, conducted studies, written magazines and texts, built forums, created social media groups and digital content. We have labored tirelessly to unite and share and learn from each other. Largely, we have succeeded. Our next challenge, then, is whether we have the strength to preserve the knowledge we have gained and nurture the networks that we have built.
All too often, we have allowed our platforms to crumble. So many of our forums are abandoned, our texts out of print or obscure, and, most recently, our social media pages and marketplaces more heavily monitored and constrained.
Within these halls, then, we offer sanctuary. Our goal is to build a comprehensive platform completely dedicated to the art of the blade, where the blade community is the majority and blade-related subjects are the core of the conversation. There will be no fear of being marginalized or deleted for being too niche to protect. And with our commitment to constantly develop and integrate new services and capabilities, we will not be another deprecated platform with one foot in the grave. Join us in this venture and help build the platform for our future.
To those who join us, welcome home. Welcome to Bladehall.
FAQ
1. Why are there fees for posting advertisements in the Marketplace? 
We charge a $1 listing fee for advertisements. Initially, while the community is small, the fee will prevent any spam listings. It will also allow us to maintain neutrality by avoiding having to retail goods or taking paid advertisements to fund the site costs.
Long term, the fees will help fund our long-term development road map.
2. But I list tons of items a year? That $1 per listing is going to add up!
Don't worry! We offer membership tiers (currently VIP and Dealer). These annual subscriptions give you unlimited listings per year and give some extra benefits too. As the site develops, those benefits will only increase!
3. So what is this development road map?
Not all of these items may come to pass or occur in this order, but here are our initial goals.
Stage 1:
Spin off Bladehall into its own entity to avoid any bias.
Recruit/pay moderators for their time.
Pay industry professionals for blogging on the platform.
Develop the e-book/e-video distribution platform.
Stage 2:
Commission exclusive content for the e-book/e-video platform.
Commission pieces from member industry professionals to conduct free giveaways for the general membership.
Stage 3:
Organize member gatherings.
Create grant programs for industry professionals and up-and-comers.
Begin planning for Community v2.0.